Introduction
/

Connecting to Altium 365
Click if you find this content useful
---
Introduction
Connecting to Altium 365
Stability, security, and accessibility of all your design data are essential to creating an easy to use and safe work environment during the PCB design process. Altium 365 combines all three of these factors while enabling maximum exposure of cloud technology and includes a full range of features for ultimate performance in PCB design. Altium 365 allows you to store projects in the cloud with all the documents and components that you may need for all of your design tasks. Connect Altium Designer to your Altium 365 Workspace to unlock powerful functionality. Each Workspace is a separate environment where all your data exists and accessed by individual Users.
Start by logging into your Altium Live account in Altium  Designer. You can check your login status in the upper-right corner of the Altium Designer interface. When you are logged in, you should see your avatar, instead of "Not Signed In." If you don't see your avatar, click "Not Signed In," select Sign In then enter your Altium Live account credentials.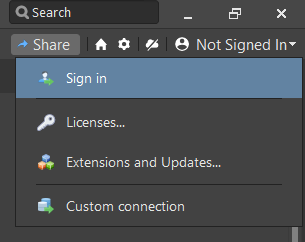 Once logged in, you can freely use the Altium 365 Workspace features. Let's login to a workspace.
Click Not Connected to access your workspace options.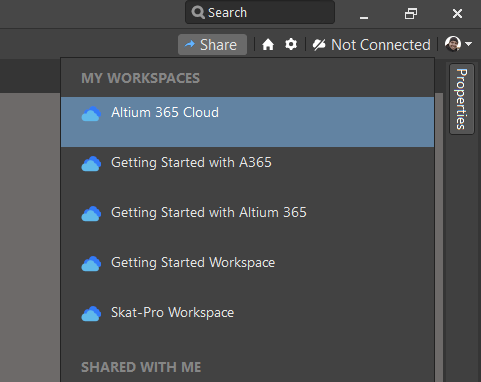 Click on the desired Workspace to connect to it. Once connected, the name of the Workspace will appear in the upper right corner of the Workspace, and you can freely use all its functionality.

Tip:
In your AltiumLive account settings at
accounts.live.altium.com
, you can set a default workspace.
Altium Designer
will automatically connect to your default Workspace when it starts.