Welcome, Guest
Sign in to learn, create, and do more with the product you love.
NEW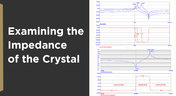 Making the Most of Your Crystal Oscillator
In my experience, the somewhat vague information you might find in a typical crystal datasheet doesn't enable an engineer to be wholly confident that their design expectations can be met. On the other hand, "blindly" adopting what the crystal datasheet says usually results in adequate frequency stability. If you want to get inside and uncover what is going on, you need to start thinking about the crystal as a phase-shifting network.