Welcome, Guest
Sign in to learn, create, and do more with the product you love.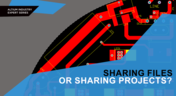 Best Practices for Sharing PCB Files vs. Sharing PCB Projects
Even though today's cloud platforms are immaculately secure and they allow a range of files to be easily shared, there are times where you should limit the data you're sharing to only the critical files required. For PCB designers, this means either sharing entire design projects or sharing individual files with your manufacturer, customers, contractors, or collaborators. If you want to eliminate liabilities and keep your team's design data secure, consider these best practices for sharing PCB design data with Altium 365.